3 tags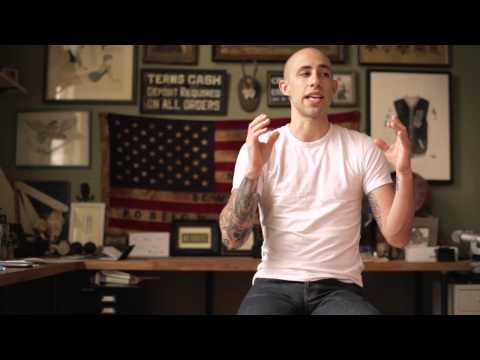 1 tag
1 tag
POZ 100 Words Or Less Podcast: Jon Contino (CXXVI...
propertyofzack: Our 100 Words Or Less Podcast with host Ray Harkins is back with Jon Contino of CXXVI Clothing. Ray and Jon discuss being responsible at a young age, the idea of hustle, and late-90's metalcore. Follow the podcast on Twitter here, subscribe to the podcast on iTunes here, and stream the new episode with Ray below by clicking "Read More." Read More
2 tags
2 tags
1 tag
Integrity is an Antique
I've written this essay a hundred times already, always hitting different angles and trying to cover everything, but it's just not possible. I'm going to keep it short and sweet and dedicate it to those who've been there for me and lead by example as I've developed as a professional and a person. My heroes and my role models — the ones who taught me to defend my choices and be true to my gut...
1 tag
1 tag
1 tag
1 tag
Good Artists Copy, Great Artists Have Common Sense...
If there's one thing I can ramble on about, it's dealing with the ever-present and always-frustrating world of design thievery. There's a few key things to discuss when it comes to design theft, so let's jump right into it! [[MORE]] The Sincerest Form of Frustration Yes, it is in fact extremely flattering when your work is copied or ripped off. The sole fact of the...
1 tag
Dealing with Personality
What better way to kick off the site than with a little something about personality? It's something we all have, it defines us, but it's also something most people don't know how to express. We all think we do when we're teenagers, but that's really just a bunch of recycled garbage. Your personality is something you're born with. It's written in your...
2 tags
jakeculp asked: Hey Jon, big fan of your work, and I was just wondering what is your favorite resource for gathering textures for your illustrations? Do you make your own or do you use online resources? Thanks, have a good one.
1 tag
nomustache asked: Hi Jon! I do hand lettering and am about to sign with an agent. I heard what you said about editorial commissions, and how the pay isn't really enough for the crazy deadlines. Did you ever have an agent? If so, what were the benefits and drawbacks? Thanks!
cheerfuld asked: Hey Jon! When (or should I say if) you ever get criticism on your work or feedback that is a little harder to take or not in agreement with your own ideas, how do you deal with that? How do you let it not affect your work?
bradkranjec asked: hey jon. what is THE best way ( scanning, tracing, etc etc) to transfer handwritten type digitally.
1 tag
southwoods asked: Hey Jon! Can you list your top 10 pitfalls to avoid of starting a clothing company? I'm thinking about starting my own (been designing shirts for others long enough) to take the middle man out but taking the plunge seems a little risky. Any insight would be much appreciated.
2 tags
glander asked: Hi Jon, long time reader first time writer. What's your favorite letter to draw? Mine is G (uppercase)